Since we've all been glued to the
Food Network
channel each Sunday night rooting of our own local
Katie Cavuto
on
The Next Food Network Star
, I thought it would be fun to round out June's BBQ themed Tasty Tuesdays post with a delicious recipe from
their website
! And get this…round up the little kiddies, because this recipe is a fun one for them to help out with too!
Kids will love to help assemble these delicious kabobs! These can be broiled or cooked on the grill for a delicious meal!
Hoisin BBQ Steak-on-a-Stick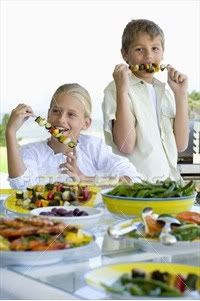 Pineapple Salsa:
1 cup diced fresh pineapple
1/2 cup diced red bell pepper
1/2 cup diced cucumber
2 teaspoons rice vinegar, optional
1/3 cup ketchup
2 tablespoons hoisin sauce
1 1/4 pounds boneless beef top sirloin steak, cut 1-inch thick
1/2 teaspoon pepper
Salt, optional

Directions:
Special equipment: 4 (10 to 12-inch) metal skewers*
Combine Pineapple Salsa ingredients in small bowl. Set aside. Preheat broiler….or get the grill started! Combine ketchup and hoisin sauce in a bowl. Reserve some of the sauce in a small bowl and set aside. Cut beef steak into 1-inch pieces. Thread beef pieces evenly onto 4 (10 to 12-inch) metal skewers. Season kabobs evenly with pepper. Place kabobs on rack in broiler pan so surface of beef is 3 to 4-inches from heat (you may also cook these on the grill). Brush beef generously with some of reserved sauce mixture. Broil 7 to 9 minutes for medium-rare to medium "doneness," turning once and brushing with remaining sauce mixture. Season beef with salt, if desired. Serve kabobs topped with Pineapple Salsa.
You can also add pieces of veggies or fruit in the kabob too…chunks of red onion, peppers, tomatoes and pineapple can be skewered in between the meat cubes which might add some gorgeous color and lots of yummy flavor!
Cook's Tip: 2 beef shoulder top blade (flat iron) steaks (8-ounces each) may be substituted for top sirloin steak. Broiling time remains the same.
Cook's Tip: For easier preparation, use peeled, cored and sliced fresh pineapple available in the supermarket produce section.
*Note: This recipe calls for the use of metal kabob skewers…but if you don't have them, you can substitute them with simple wooden kabob skewers that you find at any local grocery store. Just remember to soak the wooden skewers in water prior to using them…this is to prevent burning them on the grill or in the stove.
All you need to do is get a variety of donut holes from you favorite donut shop…then let your kids skewer them onto a kabob skewer! Ta da! Yum!!!