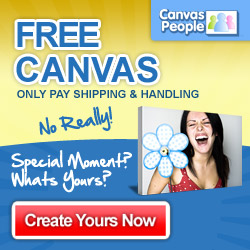 A free Photo Canvas is a great gift idea with wonderful family memories of Christmas, birthdays, anniversarys, graduation, vacations or just because. With this offer you get a free 8×10 photo canvas or $50 credit toward a bigger photo canvas. The way it works is like this:
1) Choose and upload the photo you would like printed
2) Choose what size. (8×10 is free + shipping/handling, or choose larger size and get a $50 discount)
3) Choose any "extras" (framing, etc.)
5) Enter shipping information
6) Pay the $14.95 shipping/handling (this is still a GREAT deal for one of these)
*This post contains affiliate links.