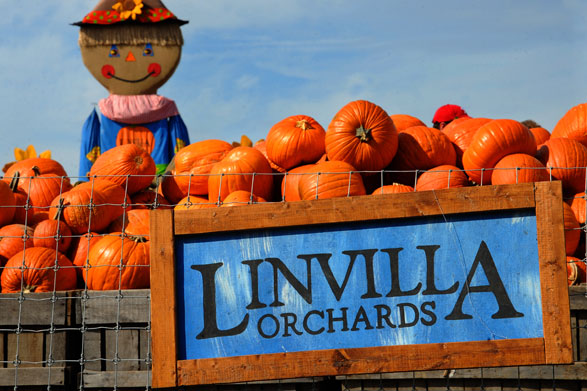 This past Tuesday, several bloggers had a chance to take their kids out for a fun afternoon at Linvilla Orchards in Media, PA. The day could not have been more beautiful, with warmer temps and the sun brightly shining. These Mommy Bloggers had a chance to hear all about the great things happening at Linvilla, as well as try out the new Fore! Mini Golf Course and Tree Maze.
The afternoon started with a delicious lunch of pizza and apple cider. The crowd got to hear about the Orchard (did you know their produce is 50% off in the winter months?!), events and how eco-friendly they really are (NOTHING gets thrown away here, folks!).
Everyone quickly finished their pizza so they could try their hand at Fore!, an indoor mini-golf course created by the Academy of Natural Sciences dedicated to educating kids and adults alike on environmental issues. The kids had a blast swinging their (plastic) golf clubs, and stopped at each hole/exhibit to learn about a different aspect of the environment.
After plenty of mulligans, the group tried their hand at the 1400 tree Tree Maze set up just outside the Garden Center. Post-holiday trees have been donated from churches, boy scout troops and other sellers, and set up as a very ornate (AND DIFFICULT!) maze. Luckily, long poles with flags on the end were handed out, so if anyone got a little turned around, they were easily found (in most cases).
Once everyone made it safely to the end of the maze, some headed to feed the animals (did you know they have peacocks at Linvilla??), while others meandered around the Farm Market. Some even took home the Orchard's famous Apple Cider Donuts!
So many great things are happening at Linvilla! With the Farm Market going strong, produce priced 50% off and Fore! open through March 18, it is worth the trip down to Media for a fun afternoon with your kids!
You can find Linvilla Orchards on: Facebook and Twitter.